Awesome season finales: Fringe, Dollhouse, The Office
Okay finales: Gossip Girl, One Tree Hill, CSI Vegas, Survivor (Coach got robbed! ha ha ha, just kidding)
I haven't seen NCIS, Mentalist, Unit, Lie to Me or Ghost Whisperer finales yet…so the jury is out. I did hear that CBS didn't renew The Unit though, that's a bummer. Although I always found the writing on that show kind of irritating – like they all took themselves too seriously, or the spoke in ways that normal people just don't speak. Especially Army families – who I've been around my whole life. Still, it was a show my husband would watch with me, and they usually had pretty cool missions. I'll be sorry to see it go.
I'm excited about Glee – I loved the season premiere or preview or whatever that was. Did anyone else see Lauren from So You Think You Can Dance (season 3) in that show choir from the other school? A few episodes in to In Plain Sight;s second season and I'm loving it just as much as last year. And there are some good things starting up…So You Think You Can Dance tonight, The Closer starting next month. Good stuff.
I also caught up on the last three seasons of Smallville. Awesome! I just loved it. I can't wait for season 9. *spoiler alert* Although, the lack of detail on Clark and Doomsday's final battle was annoying. I mean, they disappear and then there's a distant fiery explosion and then Clark is okay? Clearly, Doomsday must still be alive…somewhere. And when are Clark and Lois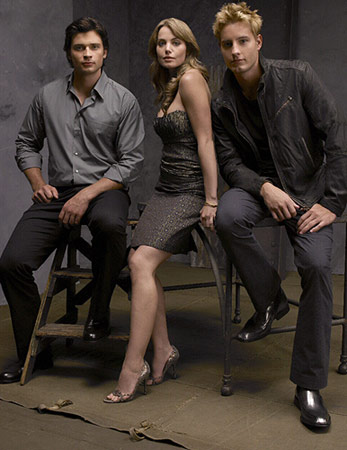 going to finally hook up??? That tension is worse than Scully and Mulder! But I just love their relationship. Also looking forward to Ollie and the Black Canary hooking up – at least, I hope so. They've got to get rid of that crazy Tess person.
That's it for the TV rundown. Oh, is One Tree Hill ending? They sure tied that finale up with a pretty little bow. Happy ending for everyone but Dan – and no one expects one for him anyway…but it sure seemed like a series finale.
As for movies, I've been making the most of my Netflix membership. I even got to the theater for Mother's Day to see Star Trek. Loved it. Saw Benjamin Button the other day – didn't love it. I liked it. I think I just couldn't escape into it enough to stop questioning how other people were able to accept the wierdness of him, and how "the man" didn't step in to run a million tests on him. Maybe that's my love of sci fi talking, but it sure seems like someone would want to know how to reverse aging if it was a possibility. I'm not a particularly logical person, so my inability to just accept the premise of that movie really bothered me. I did love that in the scene where Daisy is performing in New York, and Benjamin comes to see her, the song she's dancing to is "I Have Dreamed" from The King and I – one of my all time favorite songs in the whole world.
I just finished reading The Lost Quilter by Jennifer Chiaverini – the latest of the Elm Creek Quilters books. I have to say, it's one of the best ones in a while. I was glued to it. I just had to see what would happen to Joanna. Highly recommended.
I think that's it – we've got The Reader and Valkyrie on deck, with lots of good movies in the queue. Just got The First Wife by Curtis Sittenfeld from the library, and again, SYTYCD starts tonight! My cup overfloweth!