My husband's boss (and friend) is a super nice guy. He's very supportive of my husband, really takes his time to make sure that my DH has what he needs to excel at work. In turn, his boss has an employee that does an outstanding job for him, is willing to work long hours, etc. They have quite the little partnership going. They even wear matching shirts sometimes :)
Anyway, so the boss' mommy has cancer. She went into the hospital last week for her first surgery. I think it's ovarian, but my husband is terrible with details. I read in a magazine that a good gift for someone going into the hospital is a blanket – since it's always cold. I certainly remember that from my c-section recovery. So I made her a rag quilt.
If you're looking for a new hobby, and wanted to give quilt making a try, this is the best pattern. There's actually no "quilting" involved, but it's a great exercise in learning how to use a rotary cutter and sew even seams. The best part is that it's really forgiving, so if your seams aren't perfect, or your squares are a little off, the big seam allowance makes up for it. Here are some pictures. I added a little pocket to the front of one of the squares so that she could keep her glasses or the remote close by.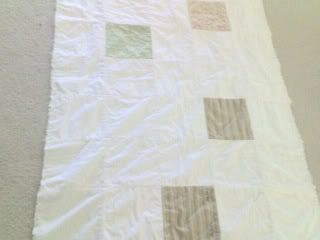 I also stumbled onto this blog by a crafter in the Netherlands. Check out this great idea to fancy up all those free canvas bags you have laying around your house.